January 2021 Update
We moved operations to our Schroeder Creek Wildfire Risk Reduction project for the winter months and will return to the Kaslo/Shutty project sometime in March to continue the CP43 Blocks. Crown separation in Blocks 1, 4 and 7 awaits completion and those blocks, including Block 2 require post treatment clean-up.
---
November 23 Update
We treated a corner of Block 4 in the neighborhood of the now empty Goshawk nest before moving on to Block 7. This will leave the bird undisturbed if it chooses to use this location next spring once treatment resumes. Final clean-up in Block 4 will be completed in the fall of 2021.
Shane and Connor are now working in a portion of Block 7 along the lower end of Branch 7. The work area is abutting the road and therefore necessitates Branch 7 closure when equipment is active. We are still on track moving operations to our Schroeder Creek Wildfire Risk Reduction Unit in early December until spring 2021.
All Rec trails are now open but please use caution when you approach the small landing at the top of 'No Brakes' trail since Sicotte trucks are still loading out. The area is also quite muddy from equipment traffic. The short section of trails in this area may be roughed up.
We much appreciate everyone's patience while we were working in Block 5 as it carried the highest impact to recreation in our CP43 cutting permit.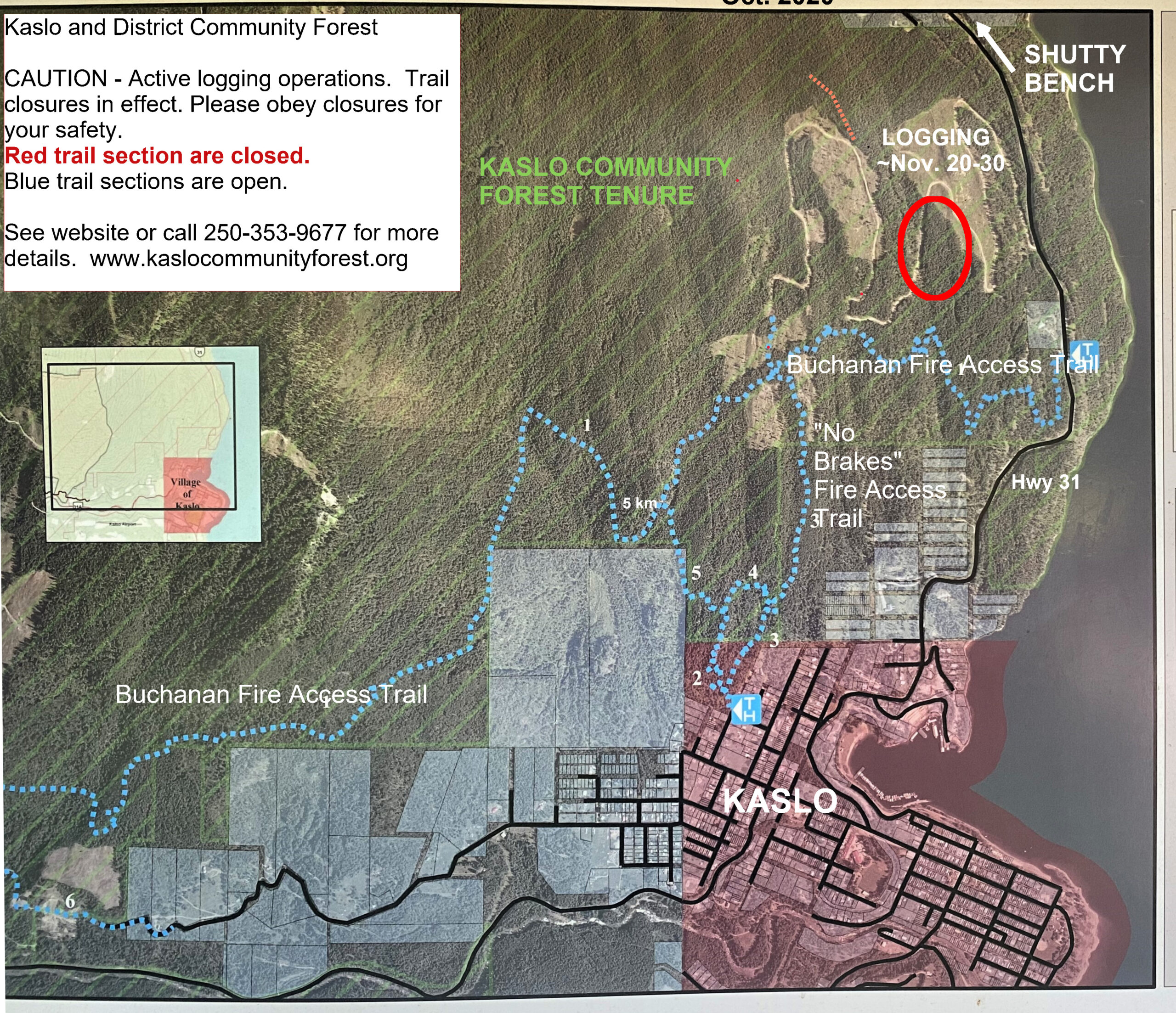 ---
October 21 Update
Sean Brenton and Stan Baker have completed the Branch 7 section upgrade. The improvement over the previously teeth rattling and outward slanted running surface is enjoyed by all travelers, and has greatly improved safety for Dave Sicotte Trucking as winter conditions set in.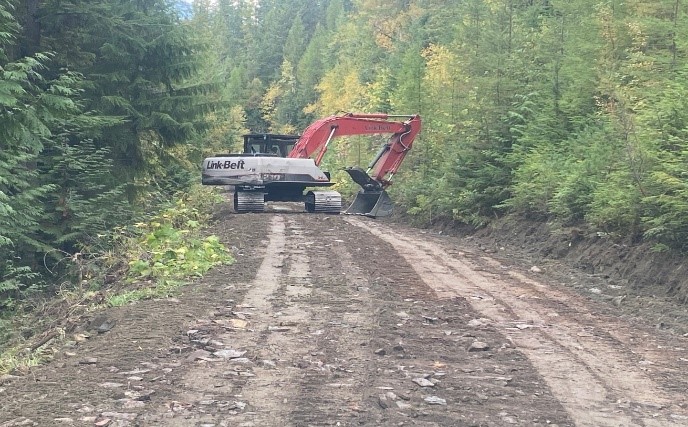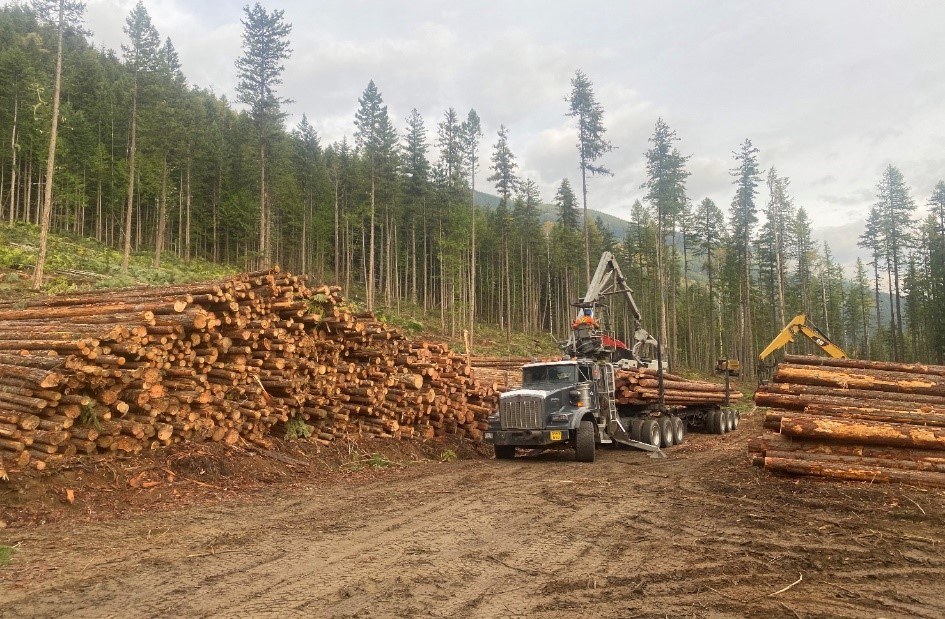 Timber Ridge Contracting has made good progress in Block 2 and we hope to finish the block by the end of October (or earlier), since the loaded logging trucks need skidder assistance to climb the steep spur grade out of the block in wet weather. The wildfire risk reduction work Shane is implementing and which we developed in collaboration with Cathro Consulting Ltd is transforming previously fire endangered forest into fire resistant types that will both, slow the spread of a wildfire and promote less dangerous fires confined to the forest floor rather than fires raging in the tree tops.
Before treatment: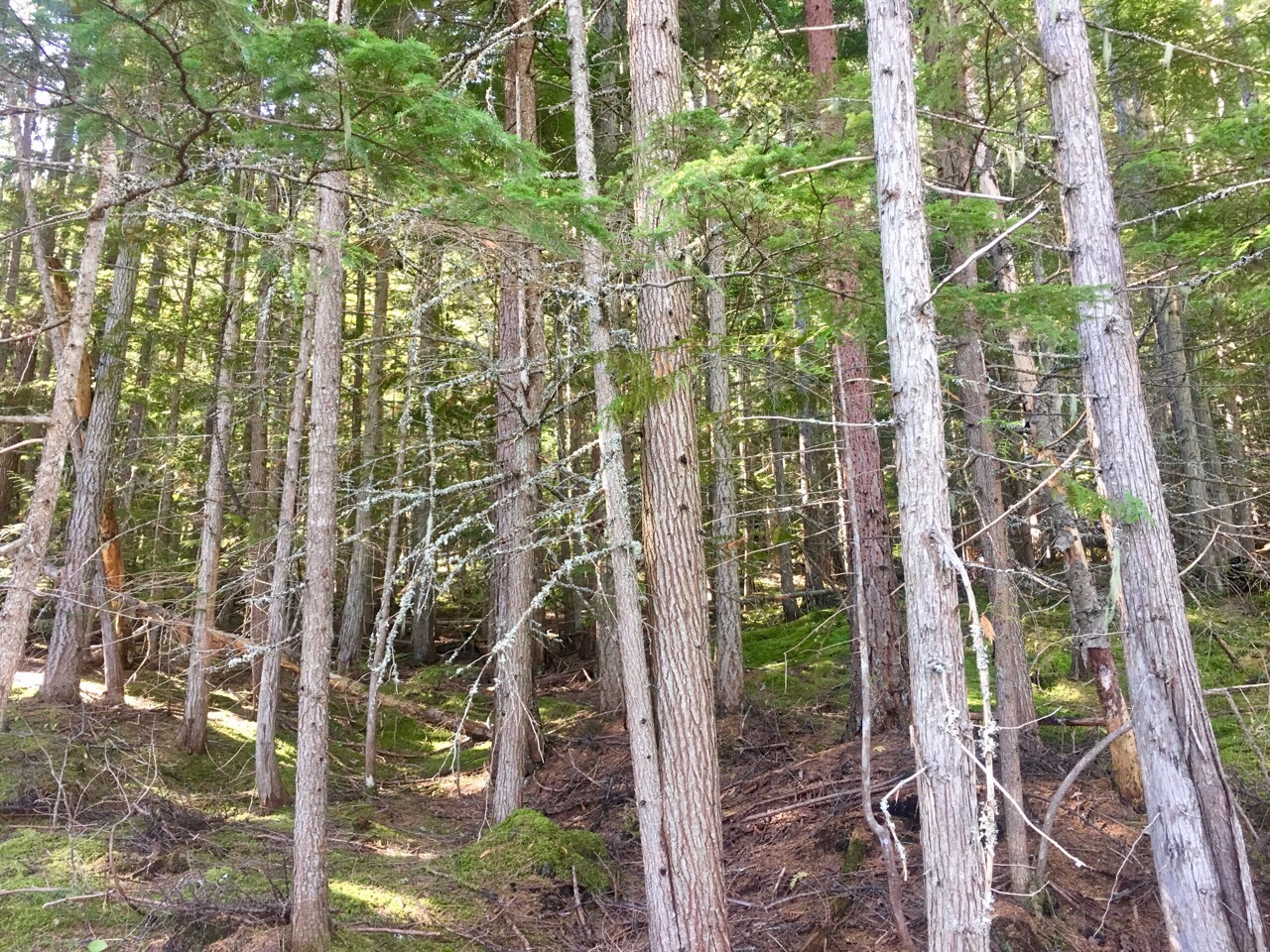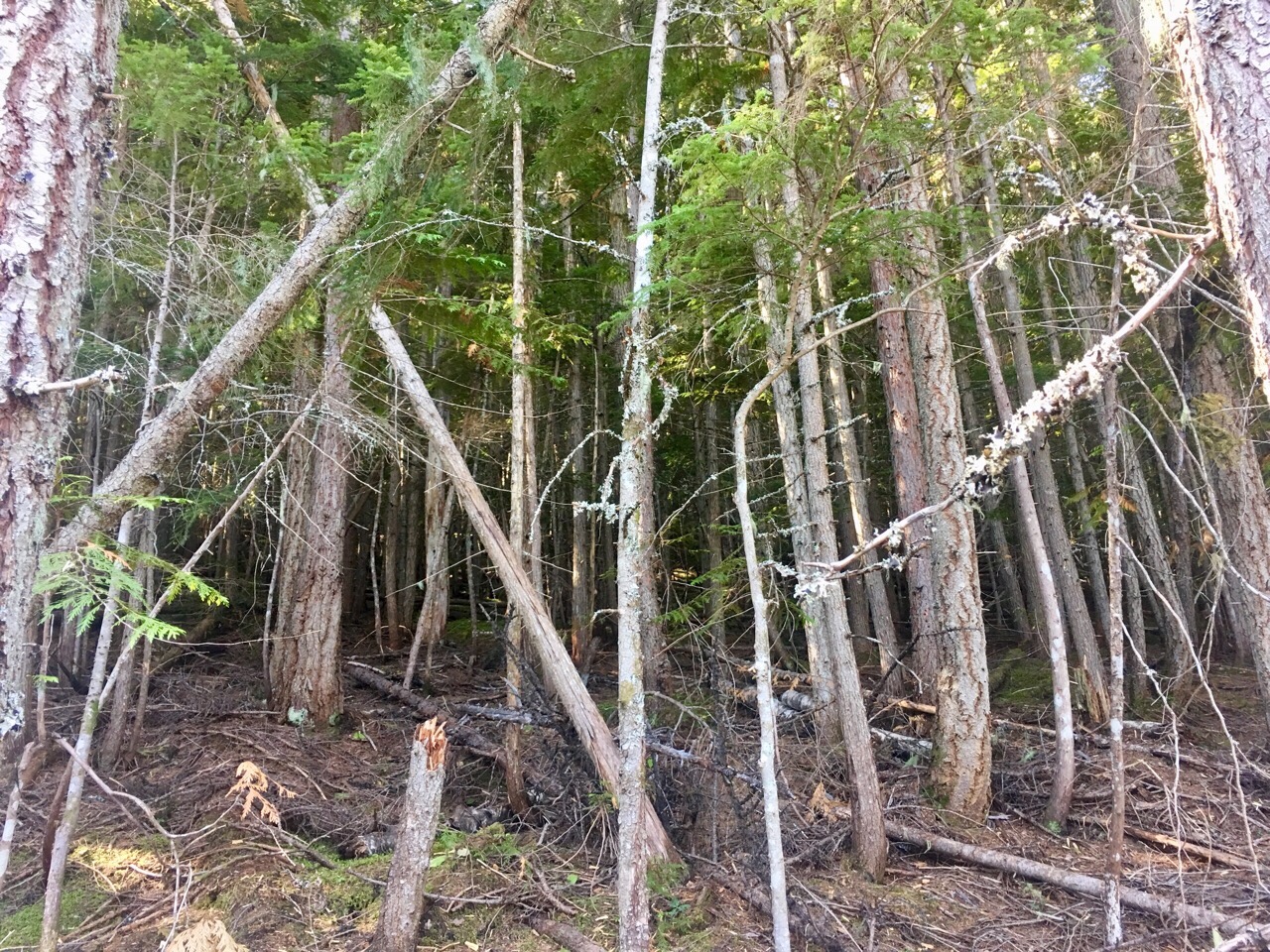 After treatment: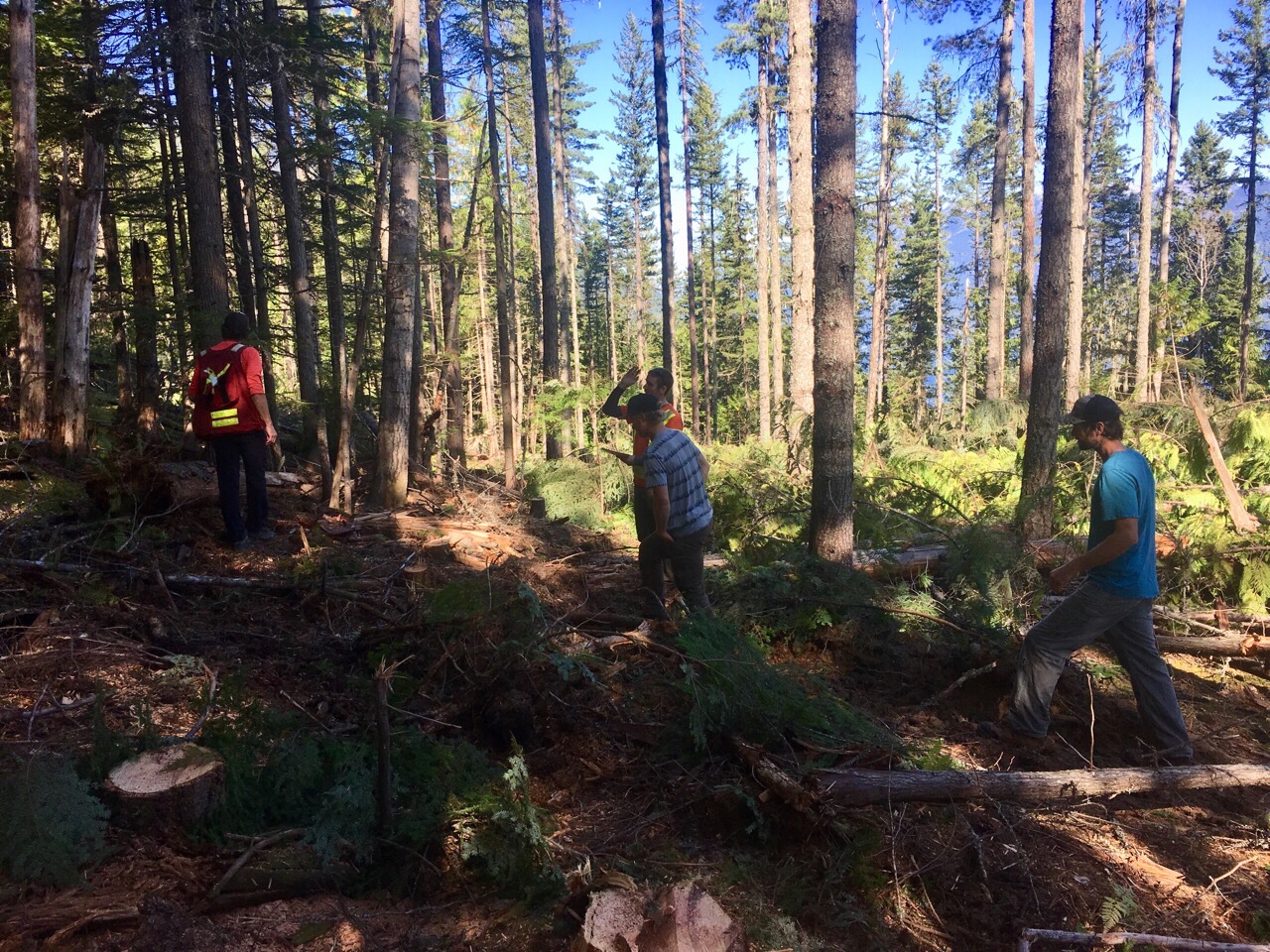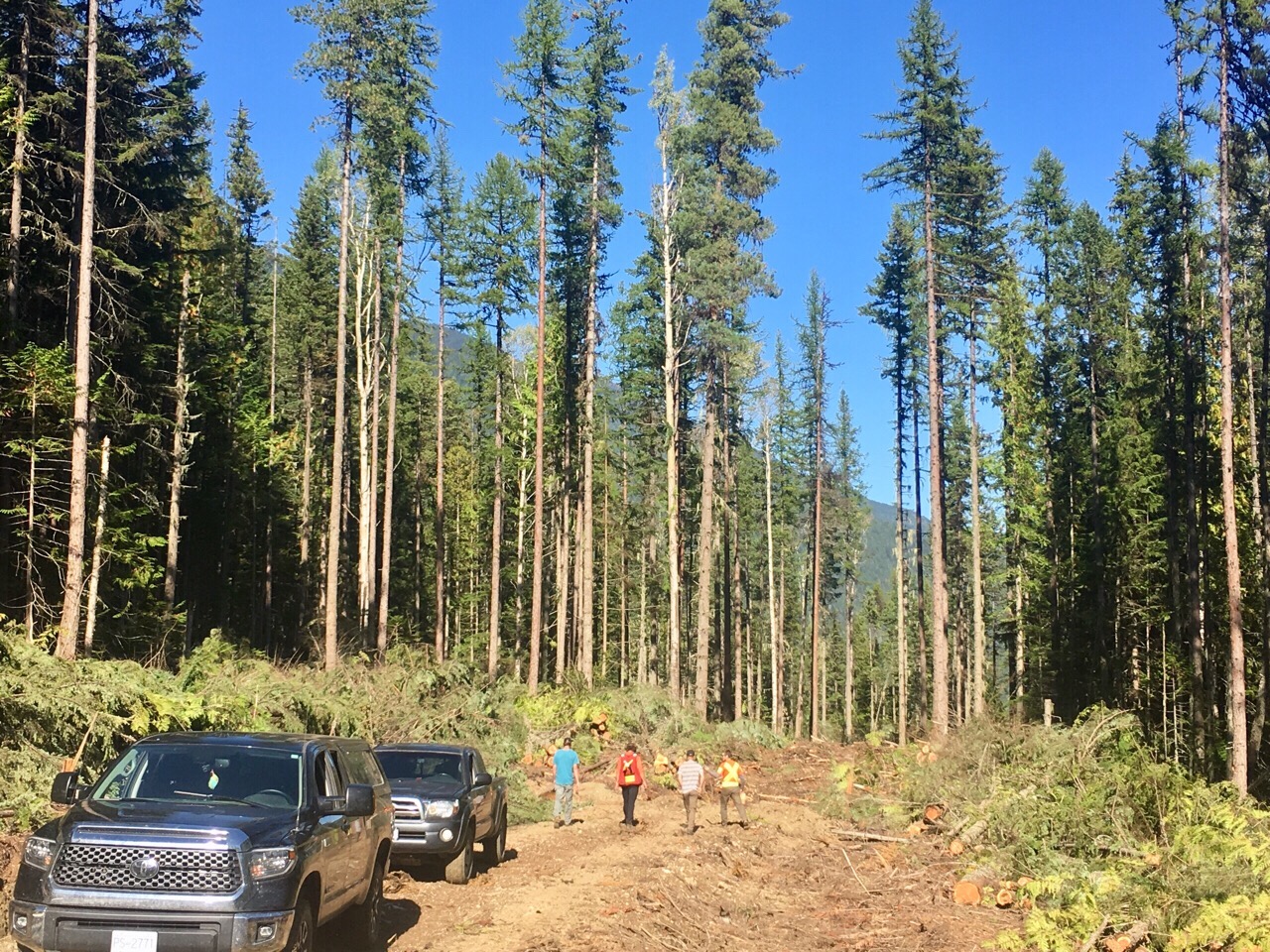 ---
October 6 Update
Road Upgrade Branch 7 Oct Long Weekend
We have hired Brenton Industries to upgrade the rough bottom section of Br 7 Road to about 1km. Sean was able to schedule the works for the long weekend, likely starting on Fri Oct. 9. We apologize for any noise and use restriction you may encounter during this time. Please contact Sean if you have any scheduling questions 250-551-4058, brentonindustries@gmail.com. This does not affect the use of Mt Buchanan Fire Access trail from the Brake Check trail head to the top of No Brakes Section.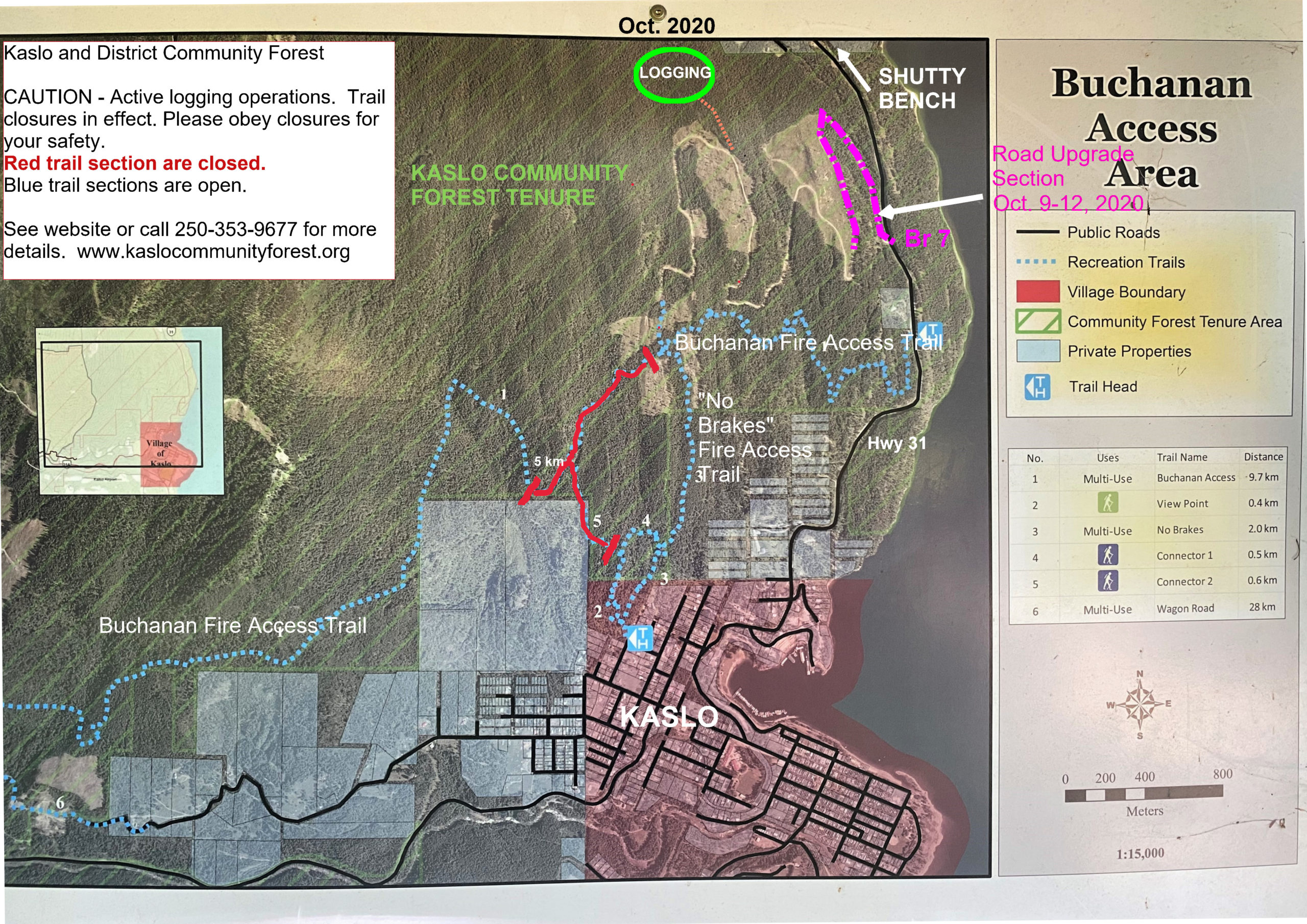 ---
September 22 Update
Harvesting is nearing completion in Block 5 and Shane's equipment will move downhill to Block 2 during the next few days. Recreation trails will remain closed in Block 5 for the following clean-up phase, which is done with heavy equipment and involves saw work, pruning tree crowns, piling debris and pile burning.  Recreation trails will be restored and safety assessed after this work is completed and re-opened later in the fall.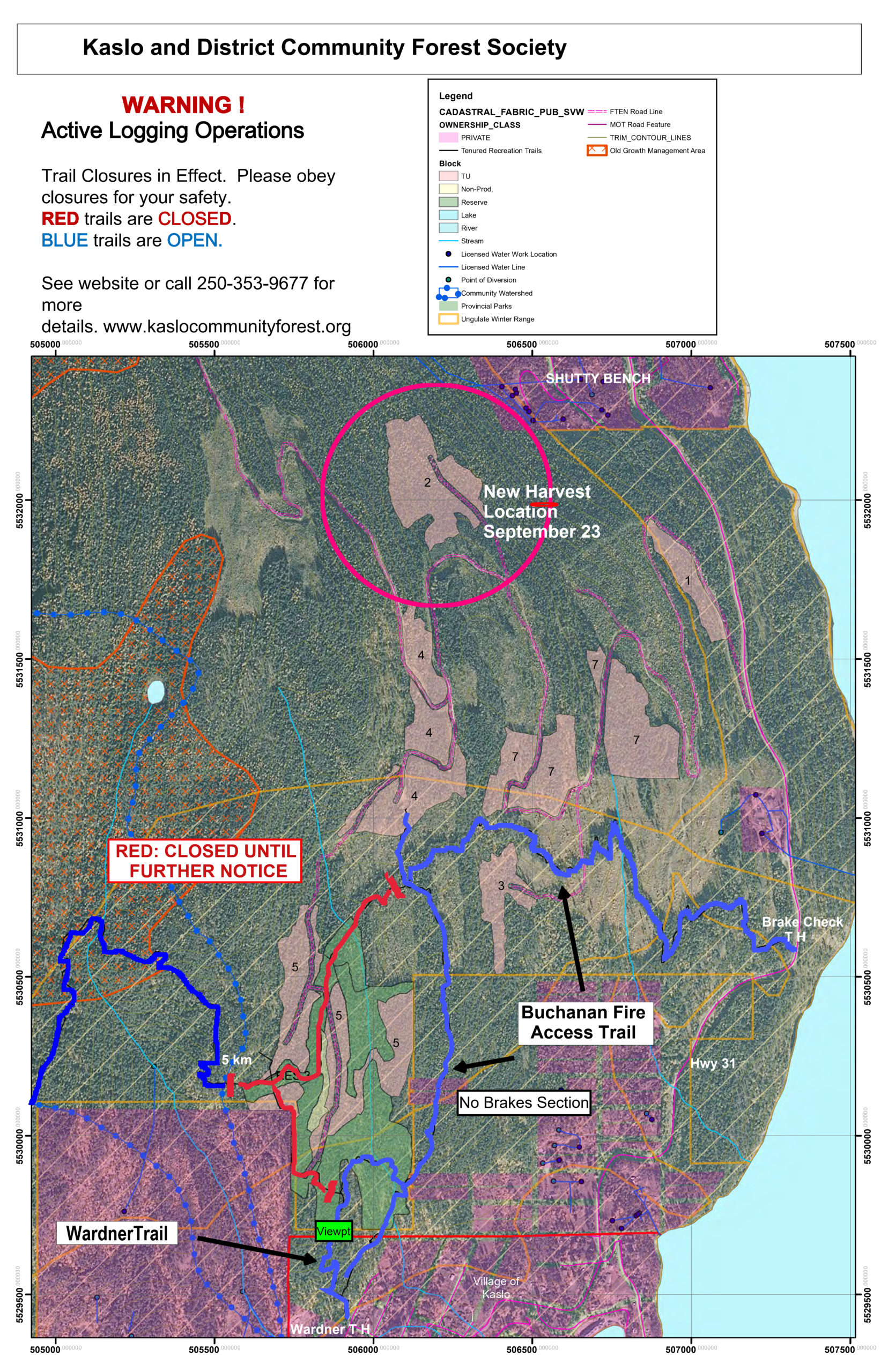 ---
August 25 Update
Primary harvesting is complete in Block 3 and equipment has moved uphill to Block 5 today. We now need to close the upper Viewpoint trail and the Buchanan Fire Access Trail from the top of No Brakes to the 5km marker for public safety. We will be working in this area until at least September 18 and will update this post once harvesting is completed. Note: this closure will also affect recreation throughway from South Fork via the Buchanan Fire Access Trail.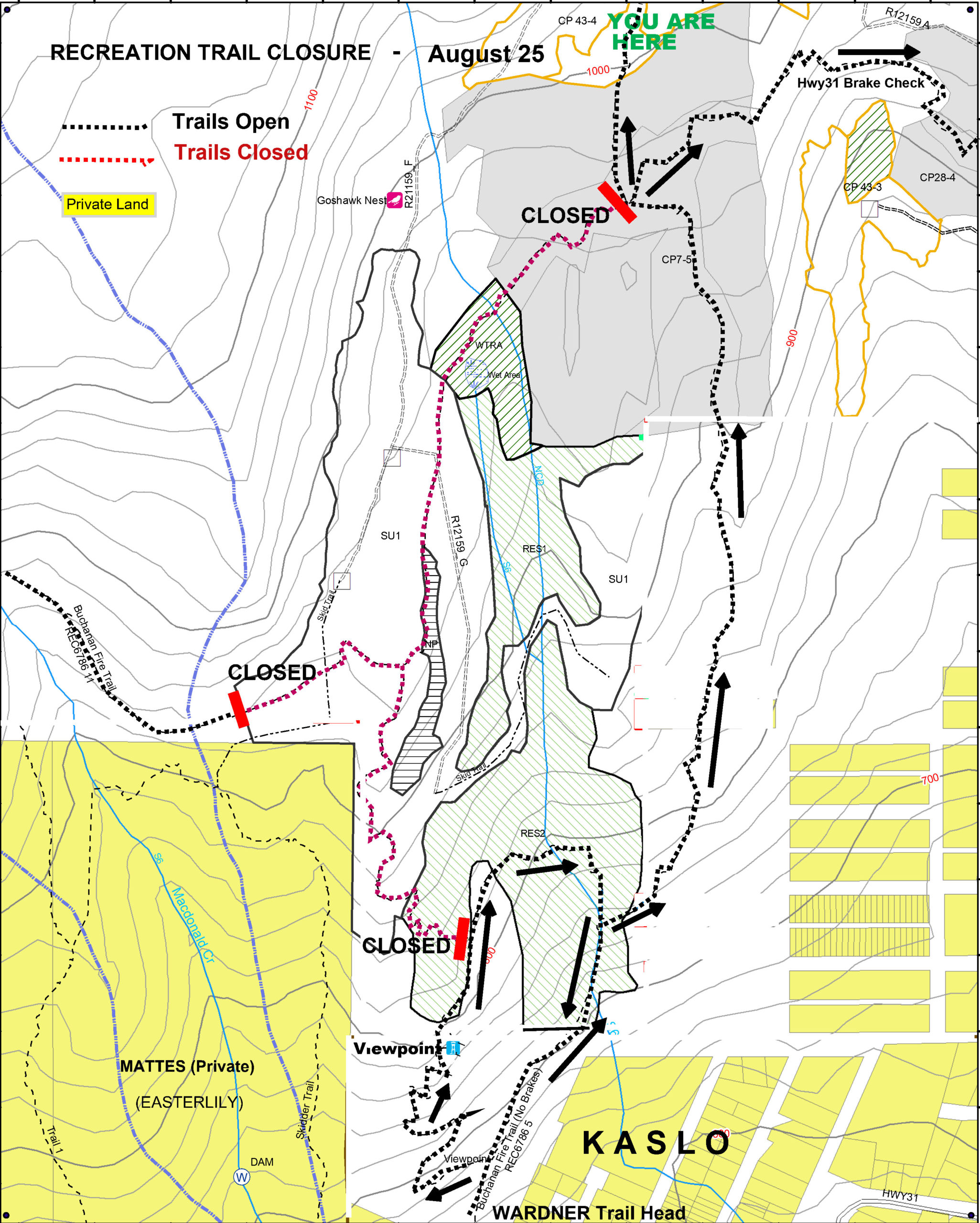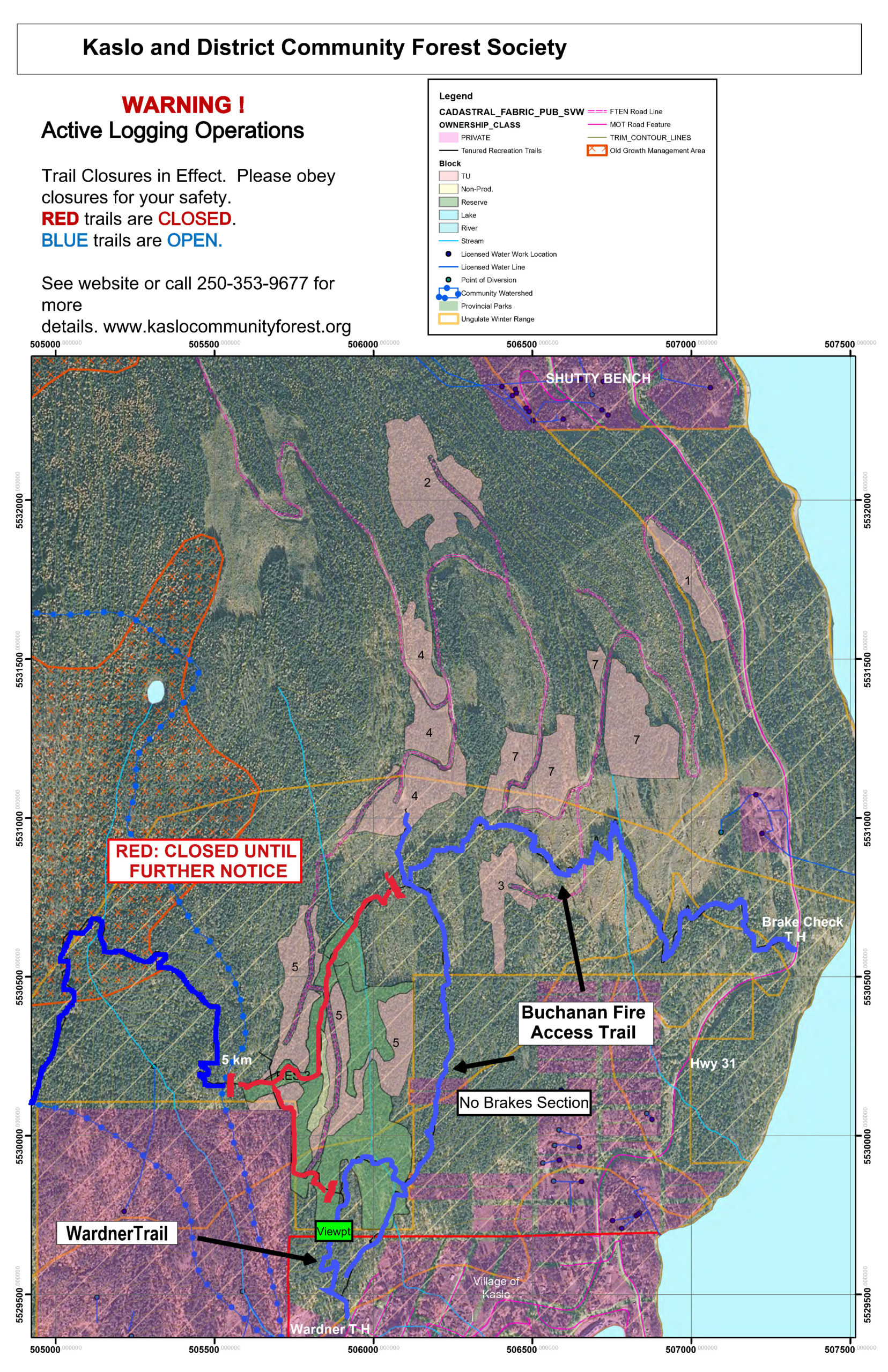 ---
August 7 Update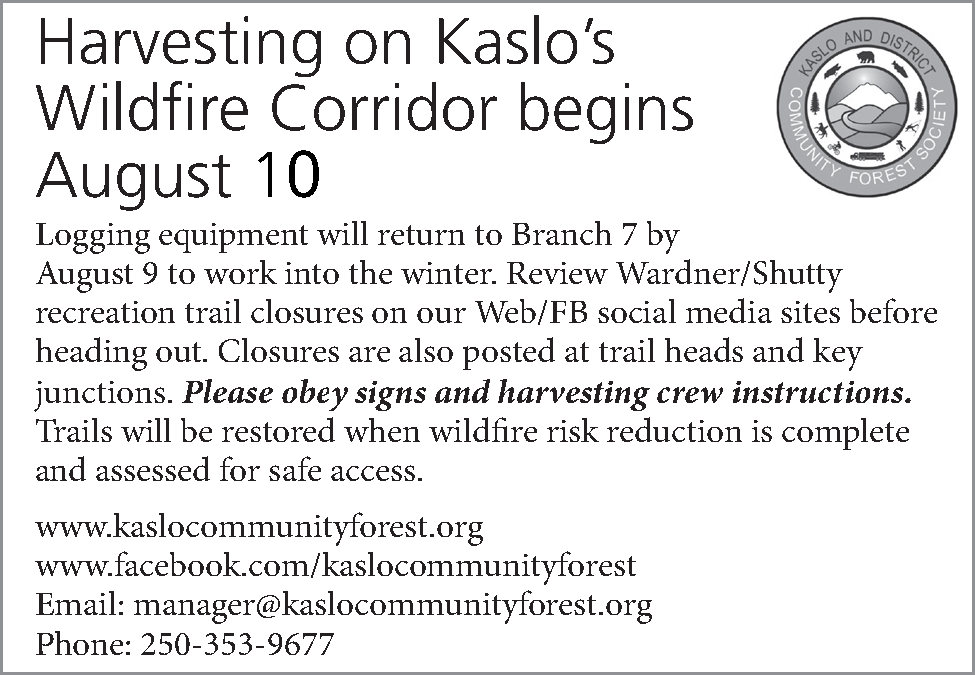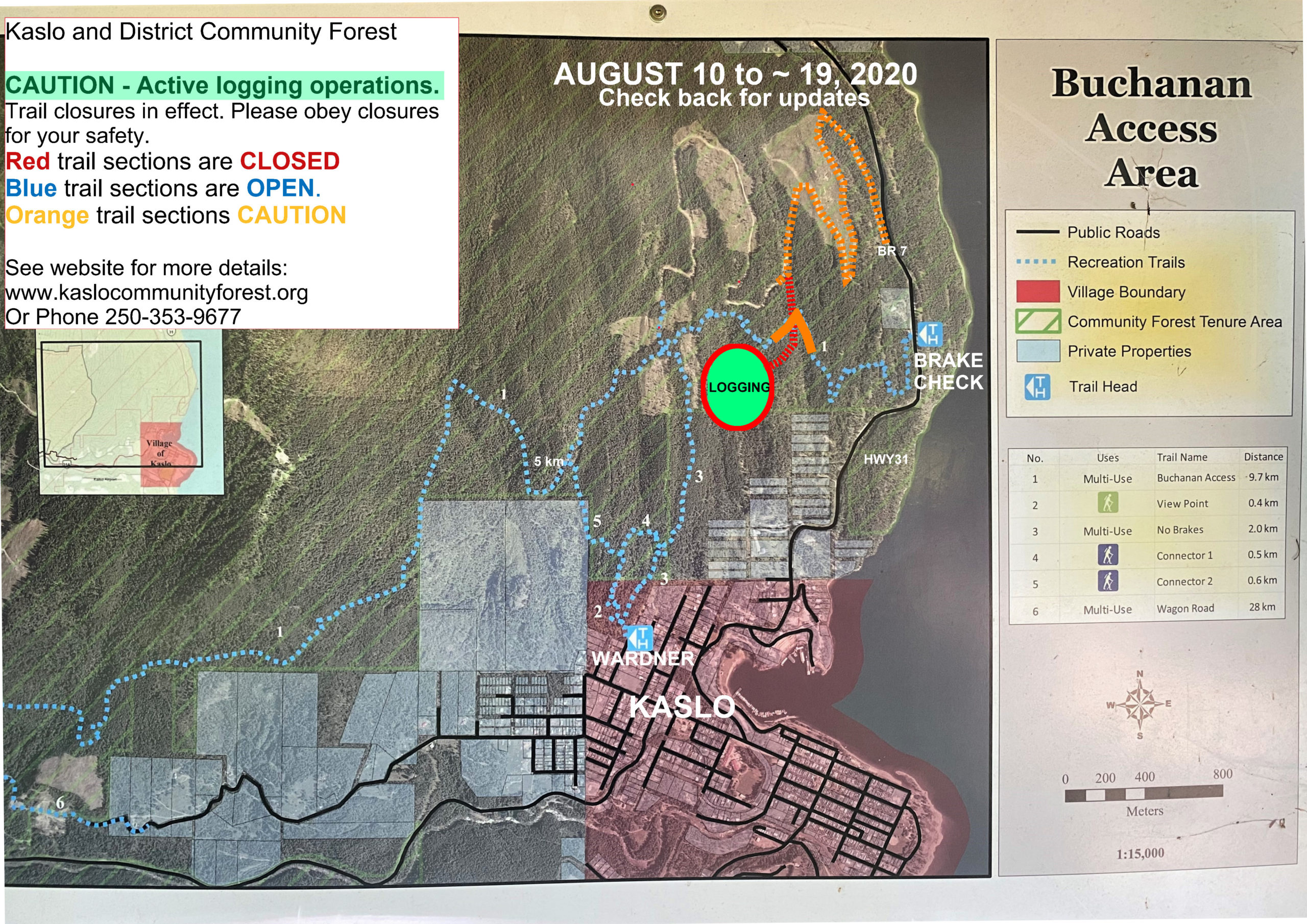 ---
June 30 Update
We are taking a break from Trail construction and harvesting until we have completed Wildfire Risk Reduction Prescriptions for which we have teamed up with John Cathro Consulting.
Log hauling from the decked wood will continue. Please watch for logging trucks on Branch 7. We will resume logging operations in Block 5 at the beginning of August.
---
May 20 Update
The Spur to Blk 2 will be completed by the end of this week. Be aware that the excavator will return then to Block 5 to complete road and drainage work along the new spur. Recreation trails will remain open and safe from operations. Please do not wander into the adjacent work area and follow signage.
---
May 12 Update
Please consult the map below.
Equipment has completed works in the Block 5 area (top of No Brakes, Turnup, Fire Access Trail) and the short Spur into Block 3. The main industrial activity for the approximately next 14 days will be spur construction into Blk 2.
All recreation trails are open.
Please watch for traffic on Branch 7 and use Road channel
since we are preparing to load out some wood from Blk 5 shortly. Thank you for your patience.
---
May 4 Update Snow is melting fast and we have picked up work on the Kaslo-Shutty Wildfire Corridor, where we left off when we were snowed out last December. The new access spur is in place, but is still very soggy and soft as we go through the spring freshet. We have closed access to this new road for vehicle traffic as indicated on the map for 3 reasons: 1. to let the road settle in 2. to prevent firewood cutting of our beetle trap decks which must remain in place until    mid summer. 3. to protect everyone from injury while industrial activities are under way.
We ask for your understanding and cooperation as we implement WCB and the Forest Safety Council requirements. Please follow signage and directions from the work crew. Action areas are contained in purple rectangles on our map. Spring work will specifically focus on: -connecting the end of the new Spur with McDonald Creek on private land (Easterlily) to install ATV access for wildfire planning. You have likely heard that work there has been under way for the past weeks. – processing of trees into market log lengths. As we were snowed out in December some clean-up work still needs to get done. – building Spur 3 into CP43 Block 3. Work will be done by locals Sunshine Logging Ltd and Timber Ridge Contracting Ltd and Sicotte Trucking. We will keep you current here and on our website as work commences. Please call us if you have any questions or concerns.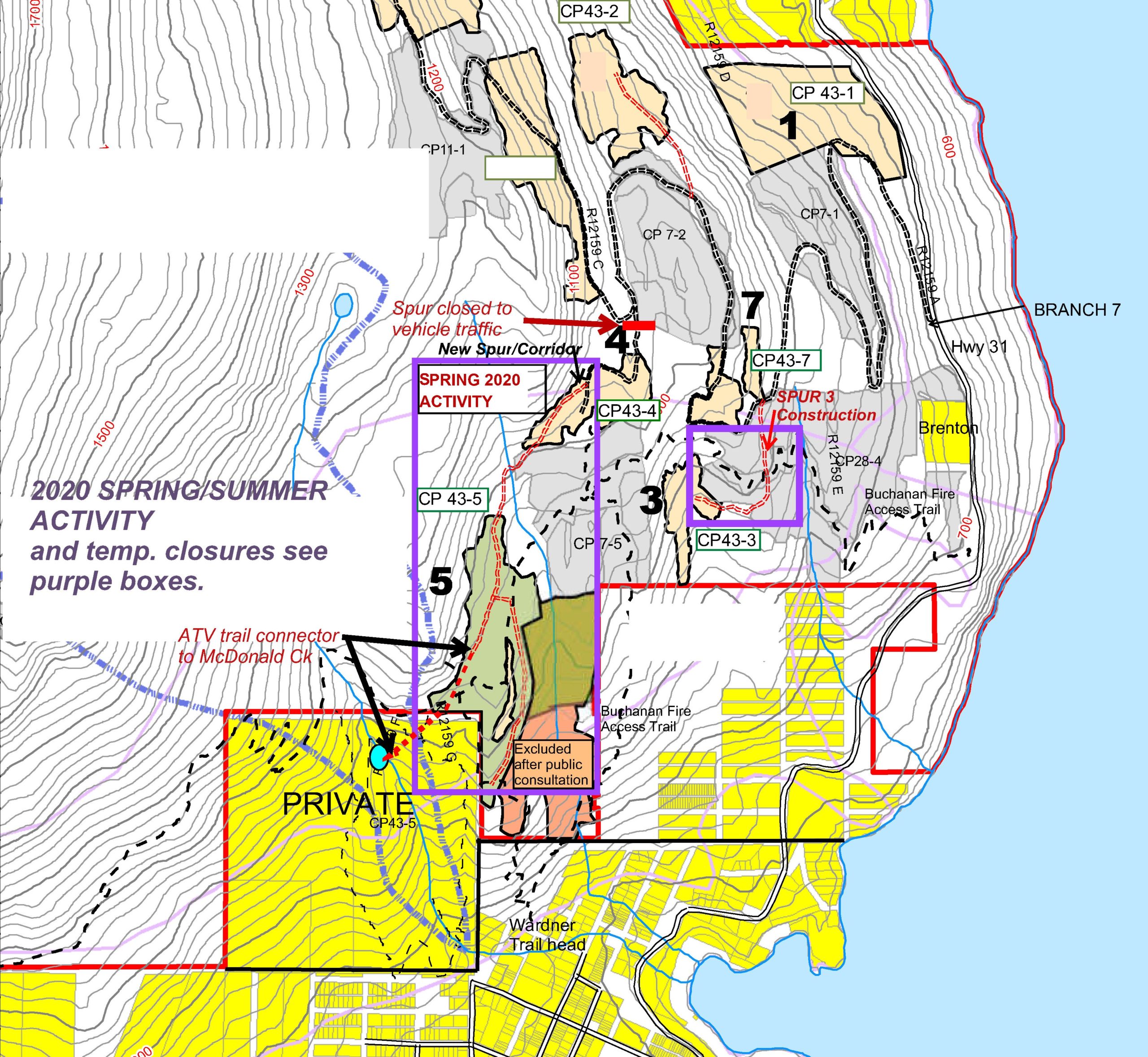 Funding secured ! The KDCFS has applied for and will receive $280,000 funding from the Wildfire Risk Reduction Grant administrated by the BC Wildfire Service/FLNRORD to assist with fuel remediation in this area. This work is implemented through the BC Provincial Strategic Threat Analysis and addresses Risk Class 1 and 2 priority areas. On a local level it is informed through the 2016 Kaslo and Area D Community Wildfire Resilience Plan, as well as our new 2020 KDCFS Landscape Level Wildfire Plan. Preliminary planning has identified harvest fuel treatment units between Kaslo and Cooper Creek which will be implemented over the next 3 years. The Kaslo/Shutty Wildfire Corridor is the first of these treatments for which we constructed a 1km access extension towards McDonald Creek at the end of 2019.  Timber Ridge Contracting is scheduled to do this harvest fuel reduction work, which will extend through much of the summer.
---
The Kaslo Wildfire Corridor Strategy forms part of the KDCFS Landscape Level Wildfire Plan (LLWP) and was developed over a two year timeframe in consultation with the community and stakeholders: Objectives: 1. To change fire behaviour 2. To increase safety to fire fighting personnel and equipment 3. To increase speed of response 4. To improve access to water 5. To implement an effective, economic and defensible wildfire corridor 6. To enhance species diversity and stand resiliency towards climate change Solutions: Objective 1 : Integration of natural topographic features to reduce Rate of Spread. Reduction of available fuel for combustion. ➢ a series of benches slows upslope fuel pre-heating and provides a strategic location for a new access structure / maintained fuel break, to skirt the North side of Kaslo. Integration of existing cutblocks and further fuel reduction in timber strips to reduce fire intensity and spotting potential. Objective 2: Creation of defensible anchors meeting safe zone definition, fuel mitigated access structures and variable access points. ➢ large fuel reduced openings that provide reduced fire intensity and improved visibility for air and ground response. Helicopter landing zones with easy approach. Fuel treated access corridors and a choice of access/exit routes. Forest management is favouring  WUI stocking standards and clean harvest practices, and will aim to introduce species diversity to improve stand forest health susceptibility. Objective 3: Access improvements ➢ new construction of 1 km road and 300m skid trail to improve water connectivity with other ATV access points through private lot. An additional 400m skid trail facilitates top access to the immediate Kaslo interface. Narrowing the ground response gap to the poorly accessed Zwicky hillside. Grading, brushing and improvements to main Branch 7 access surface. Objective 4: Private land collaboration (McDonald Creek) ➢ new access connects with water in McDonald Creek and/or allows transport of water into the immediate Kaslo interface. Participation of private land owner to provide alternate ATV access point and access to water from a strategically located lot. Objective 5: Expansion of existing anchors and geographic features ➢ shared wildfire defense corridor for Kaslo and Shutty Bench South that allows cost-effective implementation, lasting benefits and mechanical maintenance opportunity. Objective 6: Silviculture management to effect species diversity, density and deciduous component. ➢ future stand dynamic is more resilient towards pest, disease and climate extremes.