We invite you to the KDCFS 2022 AGM on Wednesday, April 13th at 7pm at the Langham Theatre.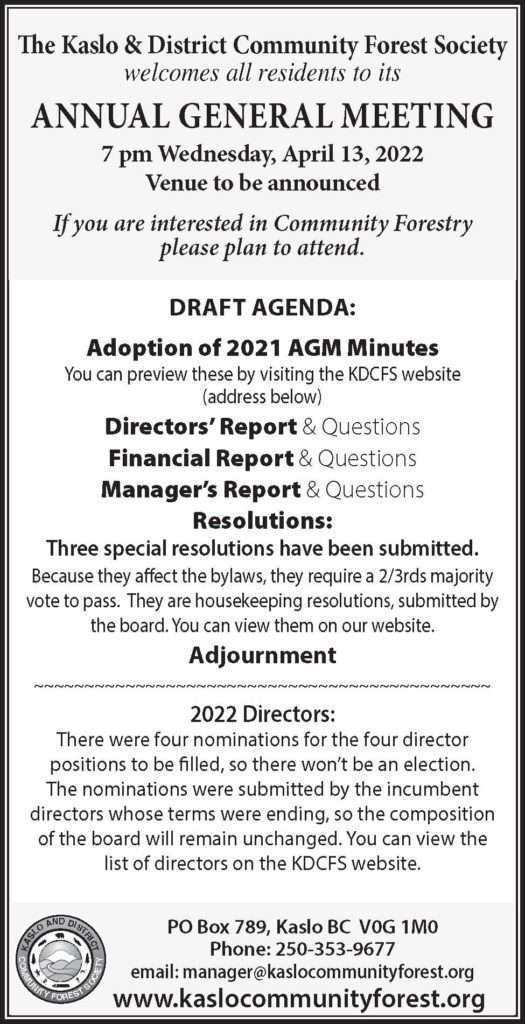 The following resolutions have already been submitted to the AGM for voting:
That the KDCFS bylaws be changed – In 13 (4) the text starting with "Further, three weeks…" will be replaced with "Further, prior to such a meeting notice shall be published, at least twice, in an issue of a newspaper customarily circulating in Kaslo and Area D (if such a publication exists), on the Society's Web-page, and on social media."
That a new clause be added to the KDCFS bylaws – In 23 (1) add a new clause: (a) Every director must be a member in good standing (have a current-year's membership).
That new clauses be added to the KDCFS bylaws – In 25 (5) add new clauses: (a) completed nomination forms must be submitted by 30 days before the AGM. (b) both the nominators and the person being nominated must be members.